6 Exciting AI tools to convert text to video
Jun 30, 2023
For NFT marketing or any type of business marketing that uses video, there are powerful AI tools available to assist you.

The six options below all convert text to video. Some offer a free version or trial to test. Most have monthly fees to create quality videos..

I'll be sharing guides & resources over the next couple of months, on using AI to:
create and market NFTs

start and scale a digital online business

save you 10+ hours/week

bring you your next $10,000

These AI tools are 100% gold for business people and creatives.

It's the first time I'm sharing these goodies.

I will be posting all of them on my twitter @ sheribarbera

➤ AI Text to Video: MakeAVideoStudio

MakeAVideoStudio is Meta's state-of-the-art AI system that generates videos from text. Bring your imagination to life and create one-of-a-kind videos like a Teddy Bear painting a portrait. Free for now.

This is an example of the delightful videos you can make
↴
➤AI Text to Video: Synthesia


Synthesia is an AI video generator that allows users to browse, clone and customize all the videos in Synthesia. Create engaging video content with human-like avatars by simply typing in text. You can create a video from written video scripts in 5 minutes and create professional videos in 15 minutes.Turn text into speech in over 120 languages. Choose from over 140 diverse AI Avatars. No equipment or video editing skills required.
From $22.50/month for 10 video credits.
➤AI Text to Video: RunwayML
RunwayML Gen2 Create videos in any style you can imagine with Text to Video generation. If you can imagine it, enter a text prompt, adjust settings and generate. Free for 3 videos or $12/month for 625 credits.

This is an example of what you can achieve and their quality
↴
➤ AI Text to Video: Phenaki


Phenaki Variable length video generation from Open Domain Textual Descriptions. A model for generating videos from text, with prompts that can change over time, and videos that can be as long as multiple minutes. Free.

The water is magical
Prompts used:
A photorealistic teddy bear is swimming in the ocean at San Francisco
The teddy bear goes under water
The teddy bear keeps swimming under the water with colorful fishes
A panda bear is swimming under water
➤ AI Text to Video: Steve .ai

Steve .ai AI Tool to create live action videos using text. Their patented AI technology let's you make professional videos in minutes. See the magic happen as the AI picks the right creative media assets for your video. Starting at $15/month for 5 videos.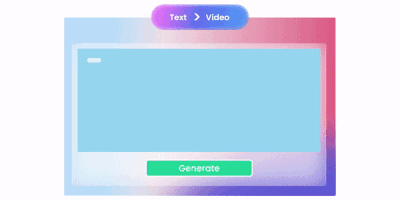 Simply paste your text in the Script editor and produce engaging videos. See the AI picking the most relevant assets without breaking a sweat.
➤ AI Text to Video: Design .ai

Design .AI videomaker is an online AI video editing and production tool. Easily convert text to videos in just 2 minutes with AI-powered video creation, generation & editor tool. From $19/month for unlimited videos.

Create a video in 3 easy steps:

Enter your information
Follow the steps to enter your script and select your video preferences
A.I. creates your video
Videomaker analyzes your script and creates the first video draft

Edit and download
Customize with the editor and export your video in multiple dimensions
➤ In Conclusion:

Try all of the free versions of these AI text to video tools to see how they work and get a feel for how you can use them in your marketing materials.
Send me your comments or questions help @ zazoome .com
Thanks for reading!
-Sheri

Sheri Barbera
CEO | Zazoo Me LLC
Educator/Artist/Coach/Speaker
Stay connected with news and updates!
Join our newsletter to receive the latest news, tips and resources on AI and NFTs.
We hate SPAM too and will never sell your information.